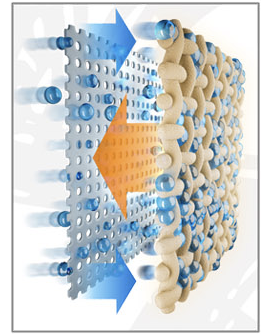 bandavej® sportswear is produced with the patented bandavej® innovative dual-layer fabric. The outer wool knit is tightly coupled to an inner polypropylene knit. A very thin elastomer fiber creates a tight connecting bond in between the two layers.
The inner polypropylene layer is water repellent and keeps the skin dry by conveying perspiration outside. This fiber is also hypoallergenic, antistatic and antibacterial so it does not retain odors in contact with skin.
The outer merino wool layer features an insulating power far higher than other materials and lets heat out very slowly. Wool is also highly hydrophilic: perspiration will be absorbed from the inner layer and brought to the surface to let it slowly evaporate.
In between the two layers a thermal air space is formed, a real insulating barrier reinforced by the insulating power of wool.
High accuracy manufacturing techniques are applied throughout processing stages, starting from 4-needle stitching that prevents annoying chafing.